Perfect Combination Of Lavishness with Traditions at One Of the Finest luxurious Hotels in Jodhpur
Desert Haveli Resort & Camp Jodhpur is set amidst the heart of thar desert. It is a beautiful place to stay and enjoy many types of adventurous activities. It is constructed in true rajasthani style which shows the royal and vibrant culture of royal rajasthan. It is the true example of architectural heritage built in modern style with all the comforts and cozyness. It is a perfect place for hassle free holidays for you and your family or group of your friends. You can enjoy your vacation doing all the adventurous activities and enjoying comfortable stay in the royal resort rooms or luxury tent in Jodhpur.
It is a premium class resort located between the two major cities Jodhpur and Jaisalmer with comfortable stay, ultra modern facilities and high profile hospitality services. It is a multi purpose property where you can even enjoy your vacation, you can organize your family functions also if you want to go for destination wedding. It will work as a small fortress for your function and make it the most memorable event of your life.
This property is eco friendly and heaven for safari lovers and bird watrchers. They have many thrilling activities like camel safari, village safari, khichan safari, stud farm visit, picnic lunch at farm, etc along with the experience of traditional hospitality of royal rajasthan. In short it is desert  Haveli is the ideal location to revisit Rajasthan's rich heritage, culture, customs, traditions and hospitality.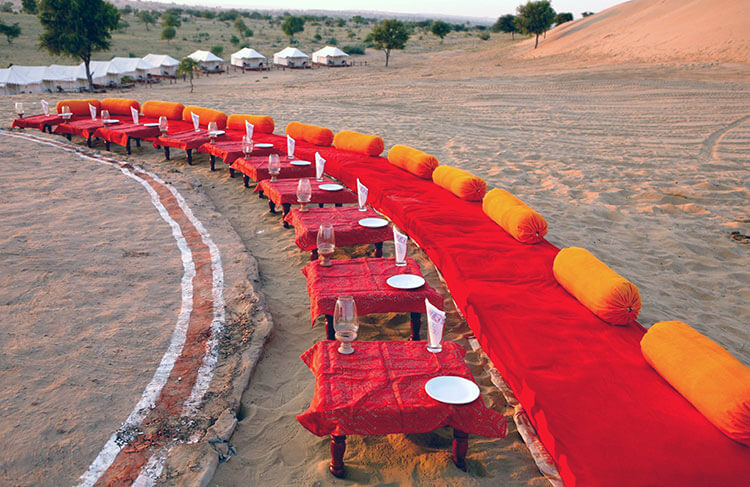 Staying in tents was always considered romantic and it is an experience that everyone should enjoy at least once in a lifetime. So desert haveli invite you in traditional style tents which are elegant and decorated with antique furniture. It gives you the feeling of living in a royal life style with utmost comfort and cozyness. To preserve the camp atmosphere the bathroom are also covered with cloth.
A gala dinner under the shining and glittery stars is accompanied by camp fire, folk music, folk dance, crackers, mouth watering cuisine. The stream of haunting music is carried across the desert sand as the merry making continues throughout the night. Meals are also served in the dinning hall where every meal becomes an occasion to remember. The good food is a hallmark of the Desert Haveli. You can have the traditional rajasthani as well as delicious indian food cooked with fresh ingredients along with the warm and heartfelt hospitality services of the Desert haveli staff. You would feel warmth in the air during your stay.
This property also have a stunning Swimming Pool, a massage parlour and a small gift shop where books, pottery, antique items and rugs are available on sale for the visitors.