An Amazing Place to Plan Upcoming Holi Celebration in Jodhpur with Your Family and Friends
Desert Haveli Resort and Camp, which is also known as one of the best resorts in Jodhpur ; is also very famous as one of the best holi party organisers in Jodhpur. Desert Haveli resort and camp is a heritage style property with modern amenities. It is very famous as one of the best holi party venues in Jodhpur. It is located on Jodhpur – Jaisalmer highway. It is approximately 90 kms from Jodhpur and 180 kms from the Jaisalmer city. And because of such isolated location, you can get the personalised or private party venue for your holi party this year. They also have a swimming pool, and thus it is one of the best pool party places in Jodhpur. Holi celebration in Jodhpur has its own importance and its very famous and popular festival among Rajasthanis.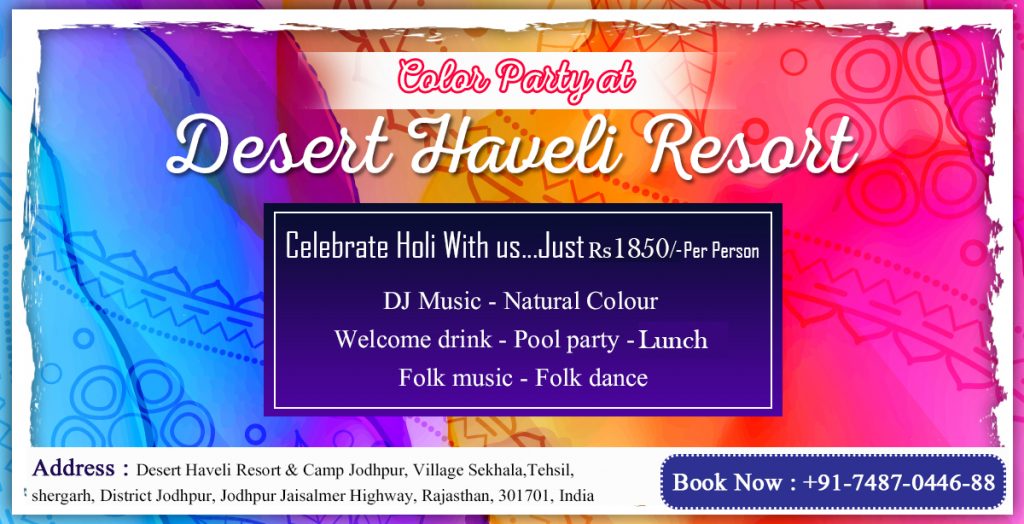 Before few years people used to play holi at their home with their family members or friends and neighbors, but as the time has lapsed the things have been changed. Now a days people has started organising holi party in Jodhpur, Jaisalmer, Udaipur, or even you can say all over Rajasthan is preparing for holi party in advance. And for that a perfect holi party place in Jodhpur should have been booked in advance. This is a classic and lavish property with fully furnished and well organised rooms as well as luxurious tents for your utmost comfortable stay. Their only motto is to deliver the superior quality hospitality services to their clients. They also provide projector, music system and all other amenities to make up for an ideal environment for parties or to make any event happening.
With rural surroundings, it is a heaven of peace and tranquillity. Sprawling lawn and manicured gardens and the bird song is the only voice you hear. his property gives you the special feeling and immense love plus care which you will definitely not get at any heritage hotels of Rajasthan. Here personalized guest care is given with gracious hospitality services to the valuable guest. And you can get all of it by just simply doing hotel booking Jodhpur   in The Desert Haveli and Resort for this year's upcoming holi party. They also have a stunning Swimming Pool, a massage parlour and a small gift shop where books, pottery, antique items and rugs are available on sale for the visitors.
You would experience the amazing  hospitality service and some truly delicious Indian and local Rajasthani food prepared with farm fresh ingredients which are grown in their own farms, devoid of any chemical, fertilizers, insecticides and pesticides. The graceful hospitality, ever smiling staff and personalized care of each and every guest, that are extended by the staff makes ones stay truly memorable and very special. They also provide event management and catering service as well as decorations for your event at their heritage property. Just name your requirement and they will be there for you to make your event just like how you dreamt of having it.