Book Yourself a Camp Stay in Jodhpur and Spend a Blissful Night in the Midst of the Golden Desert
India is an incredible land to explore where a great example of unity and diversity is exhibited through caste – religion, language, food habits, culture, rituals, values, history, temples, forts, palaces, dynasties of great rulers, wars – fights fought by warriors and the way of lifestyle by adapting modern and ancient ethics that maintains a balance in their social and economic life. Each city has its own trends, specialities, food cuisines and story to depict – one such mesmerizing city is Jodhpur that is further entitled with names like " The Blue city ", " The Sun City " and " The Gateway to Thar ". The land of Jodhpur depicts the past of India's splendor and richness that rulers had at that time, other than this the city has stunning temples, serene lakes, towns and villages full of life, fascinating palaces – forts and alluring gardens with incredible array of flora and fauna.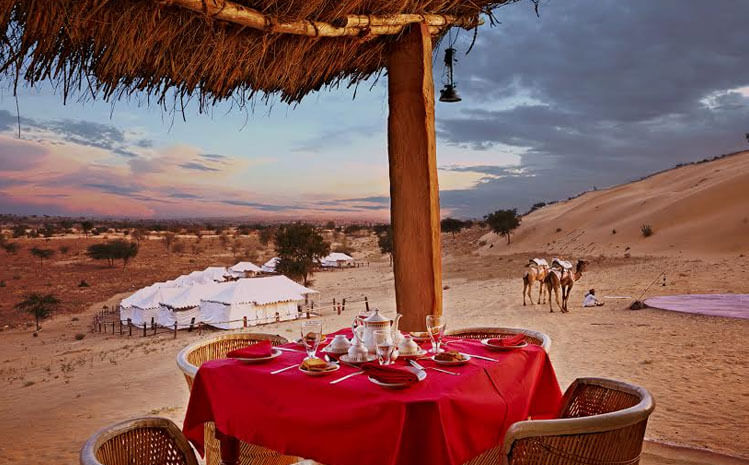 Winter is the best time to visit the city, the atmosphere and the temperature of the surroundings is comfortable that one can easily enjoy the vacation without any hassle of heat or sickness/fever. The city has its own to do list that every traveller is suggested to follow, so that they can involve much with the city's food culture, sweet specialities, traditional clothes, jewellery, accessories, culture, art of living, history of the brave rulers and other fun activities that makes the place unique, enough to attract foriegn and national travellers. The most common thing that every traveller wish to enjoy while being in the city, is to enjoy a camp stay in Jodhpur Thar desert – where the travellers book tent's ( well built swiss tents with all the basic facilities and privacy ) in the midst of the desert and spend a stunning night under a sky full of stars and warmth of fresh wood bonfire.
Living in a tent is a rare thing to experience – you choose to stay in the middle of the desert, away from the hassle routine of city lives and connect to a lifestyle where there are modern facilities offered in an old traditional style accommodation – which we called Camps or Swiss Camps. There are many resorts in Jodhpur that offers very standard and lavish accommodating tents in the Thar desert, where they also organize some indulging activities for guests – such as camel safari or camel ride, jeep safari, bonfire night, stargazing, traditional folk dance ( ghoomar, potter dance, kalbeliyas & snake dance ) and music shows along with city speciality food dishes served in meal time. You have to believe the tales that other travellers share – one can see the stars with naked eyes to wish for their desires from shooting stars that are rare to see in the city, but very common in the desert.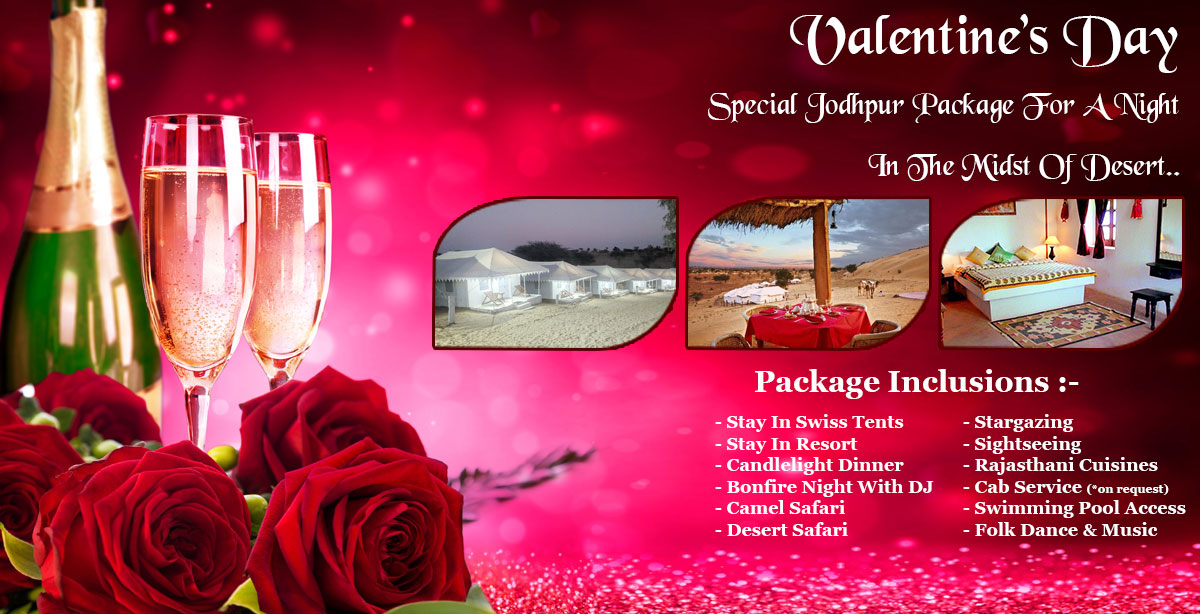 If you want to experience a camp stay in Jodhpur than you can get yourself a stay book in the desert from The Desert Haveli Resort & Camp – we have efficient and well built camps in the midst of the desert, where we offer an affordable and comfortable stay to guests by giving best of our hospitality services. Our camps are nestled in the peaceful beauty of desert, far away from the city shores where each guest can just be involved with their partners and enjoy each moment with them while enjoying camel ride, jeep safari and dance show. Each night we arrange these programmes for guests, so that they can enjoy the food and bonfire with some entertainment in the night time – we have packages available for corporate groups, student groups, family groups, honeymoon couples and business travellers. To get yourself a camp stay in Jodhpur booked, then visit our website now and drop us an email with your dates.